Turtle Rock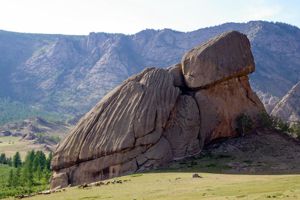 The Turtle Rock, or called Melkhi Khad by the locals, is an interesting rock formation and named for its resemblance to a turtle when viewed from a certain angle. About 10 min drive or accessible on horse back about 30 mins from the ger hotel. This giant rock formation is a popular spot for visitors to the area.
Ariyabal Meditation Temple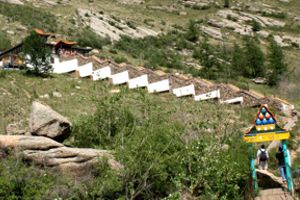 Ariyabal meditation temple is situated in the scenic area of Terelj National Park, 3 km from Turtle Rock. Buddhist Monks performs meditation ritual for many years amongst beautiful and tranquil mountains of Terelj National Park. Later the actual meditation temple was built for the comfort of the monks in the 1990s. Ariyabal meditation temple is surrounded by scenic mountains with interesting rock formations and sits at top of the mountain. The entrance of the gate is accessible by car, hiking or on horseback. The distance between the gate and the actual temple is about 1 km and it is only accessible by walking. To get to the top, you would cross the suspension bridge and climb up on 108 stairs, according to Buddhist prayer beads. This small hike is seen as a ritual to cleanse one's sins. The temple, when observed from distance, can be seen as a beautiful white elephant and the staircase looks as if the dangling elephant's trunk. From the top, you can enjoy the breathtaking view overlooking the Terelj National Park.
Zonjin Boldog / The Great Chinggis Statue/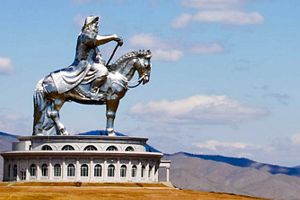 The Genghis Khan Equestrian Statue, part of the Genghis Khan Statue Complex is a 40 metre (131 ft 3 in) tall statue of Genghis Khan on horseback, on the bank of the Tuul River at Tsonjin Boldog (54 km (33.55 mi) east of the Mongolian capital Ulaanbaatar), where according to legend, he found a golden whip. The statue is symbolically pointed east towards his birthplace. It is on top of the Genghis Khan Statue Complex, a visitor centre, itself 10 metres (32 ft 10 in) tall, with 36 columns representing the 36 khans from Genghis to Ligdan Khan Visitors walk to the head of the horse through its chest and neck of the horse, where they can have a panoramic view. The main statue area will be surrounded by 200 Ger,yurt camps, designed and arranged like the pattern of the horse brand marks that were used by the 13th century Mongol tribes.
Rock Formation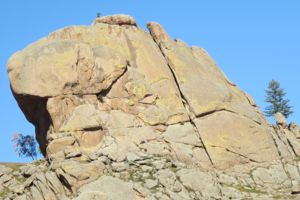 Around the camp, you will come across various shapes and size of rock formations. You can walk around the camp to spot many different shapes of rocks. If you cook carefully you make up various formations.
Room 304, Peace Avenue 18A-1, 13381 Ulaanbaatar City, Mongolia
Tel: 99098720
Email: info@hoyorzagal.mn