Kazakh Spring Festival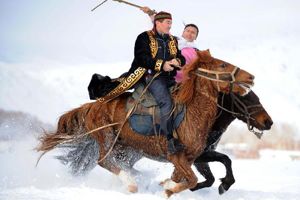 Guru Eco Complex
Terelj NationalPark
Ulaanbaatar 21-22March (Annually)
The Kazakh people are the largest ethnic minority in Mongolia, is located in the western province of Bayan-Ulgii. There are many Kazakhs in the coal mining area of Nalaikh district.On March 22nd, the Kazakhs of Mongolia marked the Nauriz Holiday,the New Year of the Kazakh People. Kazakh's citizen says about the fest that "Ulystinulykuni" which means "the great day of the community." Seven is a very important number in Nauriz celebrations. For example,it is customary to invite seven people over and to visit seven houses. Guests must bring their own dish made with seven ingredients. One popular dish is Naurizkoje, a special yogurt soup prepared for the festival table consisting of water, meat, salt, fat, flour, cereal, and milk.
This festival is specifically organized to introduce lifestyle, art, culture and history of Kazakh people to our foreign guests.
Golden Naadam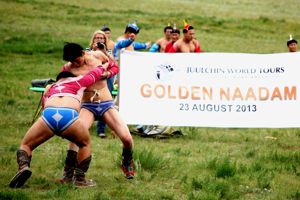 Guru Eco Complex
Terelj National Park,
Ulaanbaatar -21August (Annually)
The Naadam Festival, a traditional celebration inherited from olden days, is the biggest national event for the Mongolians. The word "Naadam" means games. The festival's full title is "EriinGurvanNaadam" which can be translated as the "Three Manly Games". It consists of wrestling, horseracing and archery. It is a tradition for the strongest wrestlers, the fastest horses, and expert marksmen from all over the Mongolian countryside to gather to test their courage, strength and coolness.
Room 304, Peace Avenue 18A-1, 13381 Ulaanbaatar City, Mongolia
Tel: 99096714
Email: info@hoyorzagal.mn